Hong Kong
Hong Kong was my primer – finally a ditch to this magnificent city. Somewhat China, but with a Western touch and an English flair - bizarre. Imagine blending the cosmopolitan coolness of Shanghai with the Asian go-go fidgety. No interference from protesters; 2 systems – 1 country. In the end my flight to Shanghai was cancelled due to a Typhoon - not due to the very friendly protesters at the airport.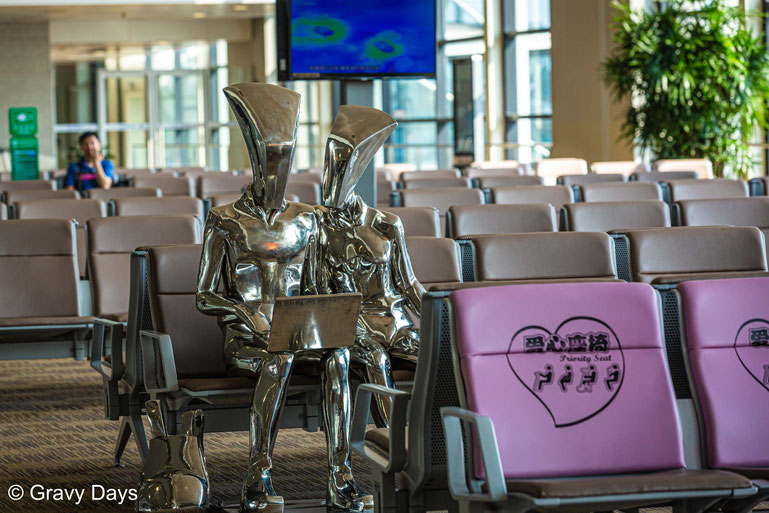 Zhangjiajie
How many holes does it take to fill the Albert Hall? I never found out, still now I know how many peaks it takes to build a spectacular and scenic landscape, dubbed these days as "Avatar Hills": 3500!
Zhangjiajie is the town to stay and enjoy such an iconic environment. Once in the nature reservoir buses will take you to places that will challenge your lenses as well as your physical condition. Switch to explorer mode and pick the "10 miles gallery" walk. It is a place with "living" Chinese paintings. Start counting stair cases and floating peaks. Dream on when a high-speed lift will bring you up to a hill station with stunning views on opposing hills. Cable cars add to rocking-chair amusement trips.
Outside Zhangjiajie another wow-factor awaits masses of visitors: The Yellow Dragon cave. Might be the largest cave on earth? No need to measure size or count the stalactites and stalagmites … too much, too many. Obviously illumination had been crafted by a former discotheque jocky. Can't complain, as it all fits into a breathtaking event, including a quick boat cruise. The biggest cave (Dragon Palace) of this underground world could easily swallow the Albert Hall. And temperatures are finally down to bearable levels.
Finally visiting another hole in a rock: Tianmen Mountain … I do not like the idea that nature was heavily impacted by building in-rock escalator lines to bring masses to the top hill attractions. Preservation of otherwise damaged nature paths? Hard to tell, but strange it is …
Enjoyed most the 30 minutes bus drive from ground station to bottom hill station. Strap in and praise the skills of the bus drivers to manoeuvre the tight roads with remarkable speed.  A joy ride second only to small airplanes defying gravity as special treat for passengers. And yes, another hole to count.      
Beijing
Beijing offers so many places to discover … impossible to explore them all. Still, once the must-see sites are ticked of the list, many splendid second-tier ones come into reach. The Taoist White Cloud Temple is one example for such a sleeping beauty.
Another worthwile spot is the Shichahai lake area. Cowded on weekends, still with many relaxing spots such as the drum and bell towers or the Prince Gong Mansion.
If time does not permit or indeed sites are closed already, check out local parcs. I've never been disappointed when exploring such down-to-earth areas. Music and dance performances typically included!
Beijing's Art Factory 798
My personal Beijing fav for many years. Always good for a surprise, a lucky bag for my quest for "art". Formerly a huge (inner city) electronic component manufacturing compound, the buildings have evolved into an endless collection of galleries, fashion designer shops, restaurants, cafes and loads of museums. Hard to walk all streets, discover all pathways and enjoy all street art monuments. I gave up on a plan … just let go and float with the crowd of mainly young non-conformists.
Dancing through the nights
All it takes is space, music and some like-minded dance-lovers. For Chinese this must be a very popular leisure time activity - once temperatures drop … showtime … and parcs turn into cozy clubs.